This Industry Outlook is a portion of the 2017 Arizona CFO Spotlight Survey Report

The 2017 CFO Spotlight Survey attracted respondents from a number of industries in Phoenix and Tucson. We will highlight the high-tech segment here in terms of growth, risk factors, strengths and trends.
Surveyed CFOS in high-tech industries were based mainly in Phoenix. They anticipate growth, with the economy appearing more stable than in 2016. The majority of leaders called for technology incenties to improve the business climate, followed by research and development incentives, federal lobbying efforts and attracting the next generation of business leaders.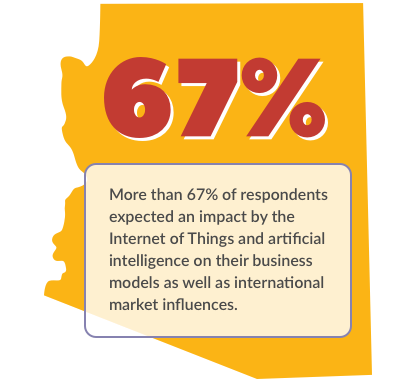 Cybersecurity and competition are the big question marks when it comes to managing uncertainty. High-tech companies are investing in bonuses and compensation to attract the best talent while at the same time keeping a tight rein on labor and operating costs. Identiyfing M&A targets as well as financing is an ongoing challenge due to the narrow focus of their products and services. More than 67% of respondents expected an impact by the Internet of Things and artificial intelligence on their business models as well as international market influences. Every leader cited the need to continuously navigate change — admitting a larger role in operations than in the past.
AVERAGE SIZE: 38 employees
AVERAGE REVENUE: $39 million
CFO Says: "[I have] developed flexible budgeting and cost control to match revenue spikes."
Revenue in 2017
Will increase significantly: 50%
Will increase slightly: 50%
Optimism? 50% somewhat optimistic
25% somewhat uncertain.
Access to Cash? Sometimes a problem
Border Security? Yes! Fix it.
Environmental Issues? Not a problem
Millennials? Cold.
Top Areas of Focus:
Cybersecurity
Labor Costs
Operating Costs
M&A
Sources of Capital
CFOs and leaders in high-tech are more concerned about providing a return on investment and are challenged by shifting business models, the speed of new technologies to market, and international influences — all of which require daily forecasting and keeping the right talent.
Contact Us
With offices in Phoenix and Tucson, BeachFleischman helps owners and executives of businesses throughout Arizona (AZ) fulfill their operations needs. If you would like to learn more, please complete the submission form below.